In case you didn't know we got rid of our sectional sofa & pallet table. We got our leather sofa fixed & I was itching to get it back in the house.
The problem with getting rid of our sectional is it reduced the number of places to sit. Now if we have guest over, there's not near enough spots. So people are left standing. or dragging our dining room chairs out. Also removing our coffee table left us with another problem of trying to find a safe spot to put our drinks, & the remotes. For right now we put them on the floor, and have to quickly pick them up before the dogs pass by and spill them. See our delima? We plan here shortly to buy the matching love seat to our couch but until then...what do we do?
So what can we build that helps us with both problems?
A large ottoman of course!
If you're not willing to pay the extremely high prices for a tuffeted ottoman which are over $200 for a decent one and around $400 for a great one you might want to keep reading this. Total cost for our ottoman was under $100.00
We had one lonely pallet sitting in our garage & what a great use for it.
**I'm going to be pulling pictures from other blog sites since my camera was getting work done to it, during this project.**
Unfortunately the pallet we had was to large. So we cut it down to about 33inx35in not to large or to small.

After we got the size we wanted we took a sheet of plywood we had lying around and cut it in the same dimensions as our pallet for a smooth surface.
Neither myself or other bloggers got a picture of this next step. If you're going to create a tuffeted ottoman you need to figure out your button placement. You should evenly mark and drill out tiny holes in the ply wood sheet.


photo courtesy of katiescrochetgoodies.com
Once you figured out your button placement & drilled holes its time to attached some 2'' high density foam to the top. You can use fabric adhesive so that it wont move around. Our Joann's only had long sheets that measured 24'' wide. So we had to cut strips for the extra areas.

Photo courtesy of katiescrochetgoodies.com
After your foam is attached and secured down with adhesive, its time to wrap the pallet with quilt batting. I got mine on sale for $20 and it was more than I needed....HELLO another project. You can secure the quilt batting with a staple gun. I place strips of thin cardboard between the quilt batting and the top of the staple so that it would be less likely to rip apart if pulled to tightly. You can thank Katie over at
katiescrochetgoodies
for this good tip.

I bought some heavy duty fabric on sale at Joann's for $9 a yard. I think the lady at the cutting station felt sorry for me because I had no clue what I needed gave me 2.5 yards for $11. Well ain't she sweet! I tightly wrapped our ottoman with the fabric, and secured it with the staple gun.
*Remember to get extra fabric for your buttons.*
This was my first time ever using a button cover. You can purchase them at Joann's for $9 a packet. I used two 50% off coupons making them $5 each. Make sure to pick the size buttons you want. I went with a the medium size buttons since my ottoman isn't that large.
You remember those holes we drilled into the sheet of plywood? Well this is where those holes come in handy. I'm unable to explain how to do this step but the ladies over at
addicted2decorating
&
allthingsthrifty
explain it better than I ever could. I will say one thing make sure you use a heavy duty thread, you'll find out why if you don't.
Once the top of my ottoman was completed it was time for the support. I found some Waddell 6 in. Traditional Table Leg that I like at Home depot for $3.95, and put a layer of my favorite wood stain by Minwax in Dark Walnut. Once those dried it was time to attach them. I placed them at the corners of the ottoman. The contrast between the dark wood and the light fabric is what I was going for.
If you follow me on twitter at
THEKOENIGS
you would of saw this sneak peek at the decorative nails.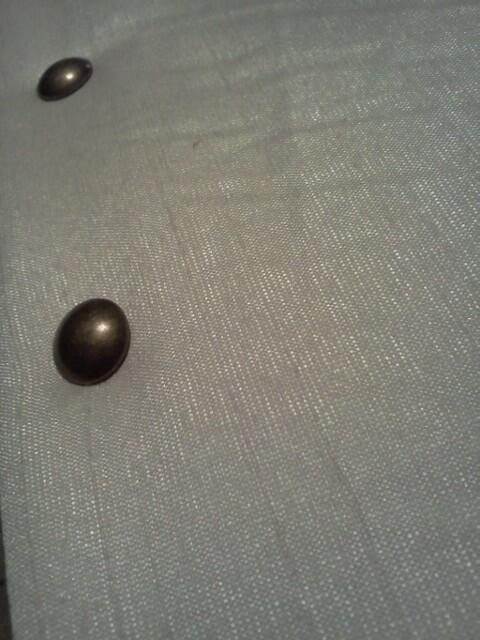 I love how Meredith over on
newlywedmcgees
added decorative nails to the bottom of her ottoman and I wanted that. So using a rubber hammer I lined the bottom of my ottoman with some about 2'' apart. I think doing this simple task gives it an expensive look when really it wasn't.
VOLA!!!
Do you like the fabric? It looks like it has specks of gold flakes in it...very shiny. Its also a type of fabric that's easy to clean with a wet rag and if something spills it can easily be wiped off. I would defiantly recommend fabric like this if you're going to use it like we will be. We only had one major set back and that was putting the buttons on. Thankfully my awesome husband figured out an easy way to do it and saved the day. It should only take a day, but for us it was two days of work. We're great procrastinator's.
For right now Mocha thinks it's her throne!
Couch
- Ashley's Furniture
White Pillow's
-Kmart $5.00 each
Christmas Tree - Walmart see post here
Love Pallet Sign- DIY Project
Tejn Sheep Skin Rug
- Ikea
Chevron Throw Blanket: Better Home & Gardens - Walmart